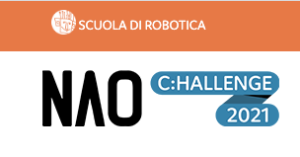 Tuesday, June 29, 2021 took place live streaming the Awards ceremony for the winning teams of the 2021 edition of the NAO Challenge, the competition dedicated to high schools and humanoid robotics with the aim of disseminating the social potential of service robotics.
The national competition, organized by Scuola di Robotica, in collaboration with SoftBank Robotics and CampuStore, dedicated to high schools has tested the programming and development skills of students through the acquisition of technical skills and problem solving abilities. The NAO Challenge has entered the action for the Valorization of Excellence of the Italian Ministry of Education.
During this edition, the teams had the missions of finding a solution to use the humanoid robot NAO for the promotion and enhancement of Cultural Heritage.
Through the programming and development of a mechatronic system, the teams created scenarios with which to optimize the capabilities of the humanoid. The realization of the projects has been coordinated and supported by the teachers of the participating schools.
Within the competition, some teams also created a pathway for Transversal Skills and Orientation that allowed participating teams to further develop the project prepared for the challenge.
During the school year, Scuola di Robotica organized several webinars aimed at deepening the knowledge, the potential̀ and the problems related to the use of humanoid robotics and the promotion of cultural heritage. The semifinals and the final were held remotely and saw the participation of 60 teams from all over Italy.
The Awards Ceremony was attended by the co-organizers with Amaury Chevallier, Field Application Engineer at SoftBank; Pietro Alberti, technical manager for educational robotics at CampuStore Academy. And among the Guests and Mentors, Eva Degl'Innocenti, Director of the National Archaeological Museum of Taranto; Laura Scarlata, Head of Educational Services at Palaexpo in Rome); and Michele Di Benedetto, Market Manager Educational Project at Omron.
Team winner edition 2021
The Kennedys – ITST J.F. Kennedy of Pordenone
Their LibRobot project aims at enhancing culture by spreading the passion for reading.
Team winners of the Excellence Valorization Award
NaoBam – I.I.S. Vittorio Bachelet Oggiono (LC)
PeligNao – Scientific and Technological Pole "E. Fermi" Sulmona (Aq)
NavOt – IIS "A Volta" – Pescara
JannuzziROB – ITIS Jannuzzi – Andria
TeamPhoenix – IISS BACHELET-GALILEI of Gravina in Puglia
The article NAO CHALLENGE 2021: the Awards Ceremony comes from Scuola di Robotica.