NAO will of course be part of the presentation!!
Teams are also asked to create a poster (70 cm x 90 cm), that will be exposed during the tournaments.
It will have to include at least the name and logo of the team.
On the website it will be available the template to be used by teams.
Evaluation parameters
Team presentation.
Team work.
Team spirit.
Use of NAO – software.
Fun and originality.
Poster.
Demo.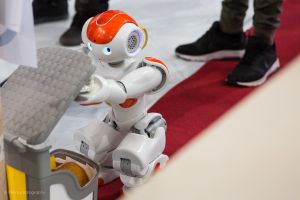 B
NAO, CAN YOU HELP ME TO…?
The aim is to find an innovative hardware solution connected to NAO intended to help educators, teachers, parents…. to be fully inclusive in their educational activities.
Target groups can be any age (0 to 99 years old).
Goal for the challenge is to build a prototype and present one example of its usage to the jury.
Design and implementation of the project will have to be carried on by the teams, but, as always with NAO, everything will have to be funny and exciting!!
Teams will have to declare target group addressed and present the way they came to the Solution proposed (case study, experts activated, existing solutions…).
Scenario
Teams will freely choose places of possible application of the solution.
Prototype requirements
connection to NAO
at least 1 sensor. (any kind of object connected to NAO which is able to detect Data is considered a Sensor: ex. Phone)
Demo
Activity's demo will have to be interactive and involve NAO and at least one team member.
Evaluation parameters
Sources of information.
Depth to which the problem was studied and analyzed by the team.
Presentation of the solution and of project work.
Innovation and feasibility.
Connected Objects (innovation, quality of the prototype….)
Software: technical choices, fluency, stability, dialogs, interactions.
Demo – Design, fun, relevance, animations, accessories. Originality.
Bonus: interaction with more than 1 person.
Internship project (Italy only)
Feasibility study, market research, branding,
Only for TEAMS that OWN NAO
Testing of the project on the ground (presented with foto, video ….)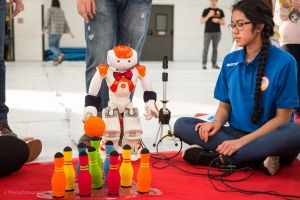 C
NAO WE ALL LEARN!
Educators job is very hard and includes preparing different lessons for different child to be the most inclusive. 
Autism spectrum disorder is one of educational areas where NAO is proved to have great results in improving teachers' job for inclusion. 
One of difficulties for these students is to choose and ask for something. It has been proved that interaction with NAO is much easier. Students can start by exercising in asking to a Humanoid thus later be gradually used to make their request directly to their parents, teacher, class mates and finally any other person. 
To make the exercise funnier and more exciting with NAO a teacher has invented a " Choice RUN "
The field
3 to 6 lanes (according to space and number of teams in the tournament).
Each lane is 3,00 m long and 0,60 m wide.
At the end of each lane is a panel with 2 big buttons (random colors) and two images of different objects the child could choose.
On the panel team is allowed to tack anything it believes to be useful to complete the challenge.
The "ask"
After start, the judge will communicate which object the child (played by one student of the team) will have to ask to NAO.
The child can ask NAO the object the way the team prefers: touching one of NAO touch sensors, by showing an image of the object with a QR code, using a TAG or by vocal request.
The race
As soon as team believes NAO has "understood" the child request, will give the robot the ready to start command (ex. by touching one of NAO's head).
At this moment NAO's eys will become green, Softbank and Scuola di Robotica will provide each team an application which allows to synchronize NAOs so that the start for the race can be given by the judge.
When every NAO will be ready (inclusion means also to be respectful of different time needed by people), the judge will start the race
As soon as NAO will arrive to the panel and press the right button the arrival time will be registered.
Ranking:
30
20
10
Evaluation parameters
Team spirit.
Use of NAO – Software.
Fun and originality.
Ranking
1 TO 6 TEAMS WILL PLAY on the field at the same time.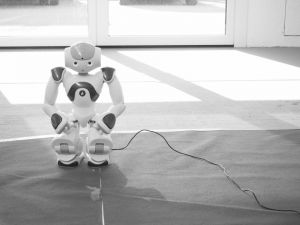 D
ME & YOU
Me & You game is about creativity, team spirit, video-making, capability of interacting exchanging ideas inside and outside NAO Community.
What can teams do? Use creatively digital instruments to offer everyone the possibility to be part of your team:
Post videos and photos on social media (number of access will be evaluated)
Publish news and communicate how your team is working, your projects, your difficulties and how you are going to find the solutions.
Present team members and how your school and families are involved in your projects
Be active Community's Forum, tickle other teams with amazing videos and get new ideas reading those of other teams from all over Europe!
To be sure contents you post are well scored they shall be announced on Community forum; name and descriptions must include this information: "NAO Challenge 2019", Team NAME, Nation, School name.
Social network:
YouTube :
create your team channel, incorporate " NAO Challenge 2019 " in your video's names
Facebook, twitter, Instagram… :
create your team pages/account, quote @naotherobot in your posts.
In all social networks use hashtag #NAOChallenge2019 in tweet, post, …
THE TOURNAMENT
Tournaments are exciting events with head-to-head competition, judging interviews, and Teams and Robot performance awards.
Teams will prepare their robot to present to the juries test A and B.
Test C is a head to head challenge which will see up to 6 teams playing on the same field.
Test D will be evaluated the day before the tournament.
Ranking in the different tests will give the team scoring (1 for the best team, 2 for the second…).
The team which will get the lowest scoring after adding the scores obtained in the 4 tests will be the winner of the tournament.
Grants will be awarded to best Teams of each test rank.
JUDGING PROCESS
Juries will be made of teachers, institutional partners, engineers and robotic experts.
Jury session
5 minutes: setting
5 minutes: Teams presents to the jury and to the public.
5 minutes: Jury's question time
5 minutes: Judging
Each Team will have 10 minutes time (setting included) to present and show its demo to each jury.
Each test will start with team presentation to the Jury about scenery, adopted solutions and team work.
Will be particularly appreciated solutions which will demonstrate fun, simplicity, fantasy and creativity.
NAO's behaviour will be evaluated as it should be in real life situations and not only according to demo's results.
Each test will be evaluated separately. Awards will be announced at the end of the day in each tournament.
Judges will use evaluation grids* to help them determine which teams will receive awards.
Awards will be determined by a deliberation process, which is formulated around discussions of team performance in each category.
Final evaluation will be the result of deliberation process of all the juries together.